Wow – we've had a fantastic response to our Katie video! Thanks to everyone who's tweeted, blogged and shared it around so far – we need to get it out as far and as wide as possible, so please do keep passing it around.
People have loved its cheery style and its message about how investment in cycling can benefit everyone – but, quite apart from the fact that everyone in it only has one leg, just how realistic is it to have a Scottish schoolgirl cycling to school? Fortunately, it just so happens our video wasn't the only thing released on Wednesday – the Scottish Government released its annual report on the state of cycling in Scotland. And it makes for interesting reading.
In our video, Katie is about 11 years old – coming up to the end of primary school. Primary school kids are cycling to school in greater numbers, which is great news – research in Denmark has shown that kids who walk or cycle to school concentrate better, yet another benefit gained from investing in cycling. According the the report, by P5-P7, 5.4% of kids report cycling to school – and as many as 14% at Highland schools. But the picture for secondary school kids is less rosy. Once Katie leaves primary school and makes her way to secondary, she's got a far lower chance of doing that trip on a bike – just 0.9% of all secondary school kids report that they cycle. And the picture for Katie is likely to be worse: the report doesn't break the figures down by gender, but in general, for every woman cycling regularly in the UK there are three men, and that's likely to be the case for girls too. In fact, if the England and Wales census figures hold for Scotland, Katie's even less likely to be cycling than her male peers as she reaches sixth form age.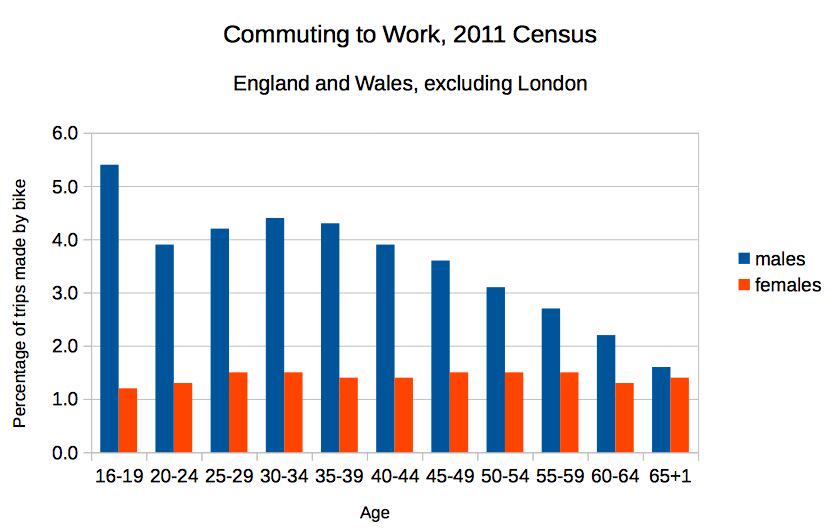 Why is this? Well it's nothing inherent to do with Katie being female – in the Netherlands and Denmark, it's women who are more likely to cycle than men. Here in Scotland, there may be a mix of factors such as a lack of female role models who ride bikes, greater pressure on her to maintain her appearance, or just not wanting to do something that is a bit different, or seen as a bit tomboyish at a time when we're all extremely vulnerable to peer pressure. It's a shame, because riding a bike gives kids, and especially teens, a huge amount of freedom (and their parents too – I'm sure most parents would relish the opportunity not to be their kids' chief taxi service). Why should girls like Katie miss out?
Fortunately, there is something we can do to balance this gender gap. And it's the same thing that is enabling Katie to cycle to school right now: proper infrastructure for cycling. As recent research shows, cycle tracks separated from traffic encourage everyone to cycle – but they encourage women more than men. That's why Dutch girls stick to their bikes when British ones abandon them. And that's how we can keep Katie cycling – to school, to university, to work, and beyond. Let's do it. For Katie. For everyone.