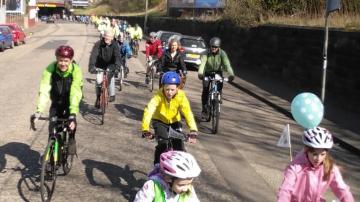 After five years of PoPping in support of safe separate infrastructure we are starting to see results – but it's now that cyclists really need to make their support known for schemes in their area.
The Roseburn to Leith Walk is one such scheme. As we have written before, it will provide a safe route East West into the city centre, suitable for everyone from families to fast commuters, but unfortunately it is in danger of being watered down because of the noisy opposition of a small minority largely based on groundless fears about the impact on local shops and traffic.
This proposal goes to the vote on Tuesday 30th August. In order to help councillors understand why Option A (the original, direct route) is the one that will benefit everyone, there will be a demonstration ride on Monday morning (from 7:45am at Charlotte Square). If you can, please come along and show your support – there's a Facebook event to let the organisers get a feel for numbers and help spread the word.
If you can't, then do show your support in other ways, particularly by emailing your councillors if you live in Edinburgh. And if you know of similar schemes under similar threat in your own area then please do let us know, so we can rally support.
More information about the Roseburn Route
This MONDAY: Ride in support of the East-West Edinburgh route